"At Ionia, we emphasize teamwork."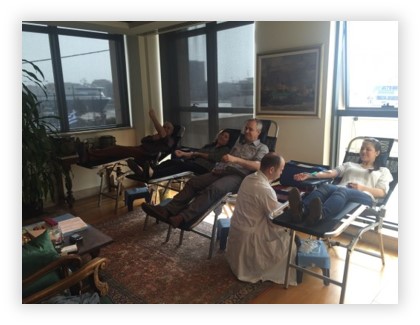 Human Element
At Ionia, we believe that the human element is the main contributing factor towards a Company's sustainable growth and success. The employment of competent seagoing personnel is vital for the safe and efficient operation of the vessels. To this end, officers and ratings are selected with great care and in line with STCW 95 requirements for certification.
Reputation
The reputation of a ship management company rests on the quality of the marine officers and crew employed. The Company's training, hiring, manning, terms of employment, personnel record keeping and reporting procedures are consistent with STCW and applicable maritime regulations to ensure the employment of competent qualified personnel.
Cooperation
In cooperation with our business associates in Manila, Philippines (Ionia Maritime Services Corp.), we go beyond established Standards for Training Certification and Watch keeping for Seafarers (STCW) and train our seafarers to the higher Company standards.
Teamwork
At Ionia, we emphasize teamwork and strive to make our staff, ashore and afloat, develop a common and well entrenched understanding of Company vision and policy. To this end, we constantly strive to equip our people with skills to help fulfill our growth objectives in the future.
The rotation of crew onboard Ionia managed vessels exceeds 80%.
We consider training as the "root cause" for achieving "zero incidents" at sea. A new training and familiarization program on applicable international laws and regulations is implemented for all Ionia crew, placing emphasis on safety of life at sea and pollution prevention. Our aim is to inspire self-compliance and motivation to safeguard the environment.
Ionia rolls in-house and vessel-specific familiarization training for all seafarers in order to ensure that all crew thoroughly understand, adopt and constantly observe Company's high standards. Accordingly, the training curriculum in not limited to the certification mandated by the STCW, but extends to navigation and engineering courses, Company's specific tanker operations and bilge water waste oil management programs.
Health, Safety and the Environment are a priority and all seafarers serving onboard Company vessels are carefully selected to meet the particular requirements. Many seafarers have served onboard vessels managed by Ionia for a long time, thus building mutual trust and understanding of the professional standards required by the Company. The "rotation" of crew onboard Ionia managed vessels exceeds 80% and results to numerous professional seafarers, considered to be the cornerstone of Company's efficiency and growth.
We review the performance of all seafarers and have developed a system that monitors the ongoing progress and development of seafarers in an objective manner. To earn promotions, seafarers attend shore side training courses and are assessed on board by senior officers and attending superintendents. Sea service records are also evaluated. We recognize improvement in performance and reward our seafarers on the basis of their individual and collective achievements.